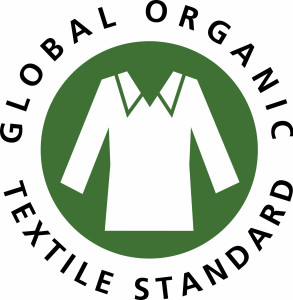 WHY ORGANIC?
I chose organic cotton for two reasons.
ONe: because it seems to be the best for baby's delicate skin. Rigorous GOTS certification ensures that the cotton comes from organic farming, and the fabric is really free from harmful chemicals. Just that – natural. And at the same pleasant and soft to the touch.
GOTS certificate is information that your clothes are even safer for your health than clothes marked only with the Oeko-Tex 100 sign.
TWO: because this is a statement for all of us, the consumers. That we support sustainable production and fair trade. Traditional cotton growing causes pollution with  fertilizers and pesticides, and consumes huge amounts of water. Fashion industry produces a huge amount of clothes which we do not necessarily need, and they are produced at the expense of hard work and health of many people. I'd definitely will buy less stuff, better quality and more durable, and sleep peacefully.
100% ORGANIC COTTON
T-shirts and pants are made of 100% certified organic cotton GOTS, knit interlock type.
Interlock knit is resilient and flexible, although it does not have any addiction of artificial elastic fibers. This is due to the special way of the construction of the fabric. It stretches well across, and almost not at all – along. Well retains shape. Applications: t-shirts, jerseys, skirts, dresses, children's clothes.
ORGANIC SWEATSHIRT JERSEY KNIT
Our sweatshirt jersey has 95% organic cotton and 5% elastane. It's GOTS certified.
Thick and warm, weight of 250g.
MINKY FURS
Knitted fur, extremely soft and pleasant to the touch, made of 100% polyester. We use only the original minky of excellent quality, imported from the USA. It is thick and very warm, well-kept in the wash – do not loses volume or colour, does not get wiped.
DIGITAL PRINTING
Colorful patterns in our collections have been applied to materials via digital printing. I decided on digital printing, because it leaves a smaller footprint in environment than traditional printing techniques. These prints are certified with "Confidence in textiles" Oeko-tex 100 Class 1, which is the highest class of products for infants and children up to 3 years of age. Used in EU countries, it is the European equivalent of the Polish approval Safe for Children and Safe for babies. This ensures that the fabric is not harmful to human health, including pesticides, chlorophenols, formaldehyde, allergenic dyes and heavy metals.